"This research helps to confirm the direction the​ department has taken with recent changes to longitudinal joint​ specifications."​

– Project Manager​ Dan Kopacz, WisDOT
How to Create Better Longitudinal Joints? 
The longitudinal joint is the Achilles' heel of every paved road. Road managers know the first part of the pavement to fail is the longitudinal joint. As the road's most permeable part, this joint is susceptible to the elements, especially with their inherently lower density. Air and water work down through this unavoidable seam in the pavement causing the joint to deteriorate, crack, and pothole. And when the longitudinal joint fails, the rest of the road soon follows — triggering the need for even more maintenance and costly repairs.​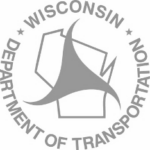 The long, tedious process of maintaining pavement begins with the most vulnerable part – the joint. Many states are actively looking for methods to improve the longitudinal joint performance of their asphalt pavements. The Wisconsin Department of Transportation (WisDOT) has recently released the findings of such a study, providing an overview and specific recommendations on extending roadway life when it comes to the vulnerable longitudinal joint.
Wisconsin DOT Longitudinal Joint Research Program 
WisDOT has released the findings of a longitudinal joint research study, conducted over the course of two years. This project's objective was to synthesize the most probable solutions to deliver better longitudinal joints in Wisconsin. An informative and concise report, it provides an overview of the study as well as specific recommendations based on the findings. The goal of this study is to provide a better understanding of how our roads are performing and how we can continue to improve them. The findings of this report will also help to guide future decisions nationwide on the performance of our roads.
The research team used information and data to define the most probable practices to further improve joint performance based on understanding the causes of distress. The team reviewed excerpts from a literature review, a review of state agencies' standard practices, a review of WisDOT pavement annual distress survey data, and interviews of several pavement experts. In addition to reviewing state DOT standard practices here in the United States, the researchers extended their review to practices in Germany, the United Kingdom, Sweden, and China.
The team identified and evaluated the causes of distress at longitudinal pavement joints and then developed recommendations to improve the overall joint performance. The research found that the primary cause of distress is water infiltration. This is due to cracks that form in the joint, which allows water to enter and cause damage.
After an extensive review of practices, the research team found that there were some commonalities among the practices that led to successful outcomes. The study provides detailed recommendations for agencies and contractors alike to consider when it comes to designing, constructing, and maintaining longitudinal joints to extend the service life of a roadway.
Results 
While the findings of this study are specific to Wisconsin, they have national implications for the industry. This study provides a valuable resource for agencies and contractors who are looking to improve the performance of their pavements. This research is a critical step in our effort to extend the life of our roads and improve the quality of our infrastructure.
Reducing mixture permeability at and near the joint is identified as the most promising method to improve joint performance.​
​
Based on published data and a review of case studies, implementing, and evaluating Void Reducing Asphalt Membrane (VRAM) during the construction process on a trial basis is recommended.​
​
Post-construction, it is recommended to use penetrating asphalt emulsions as a preventative and remedial treatment for longitudinal joints.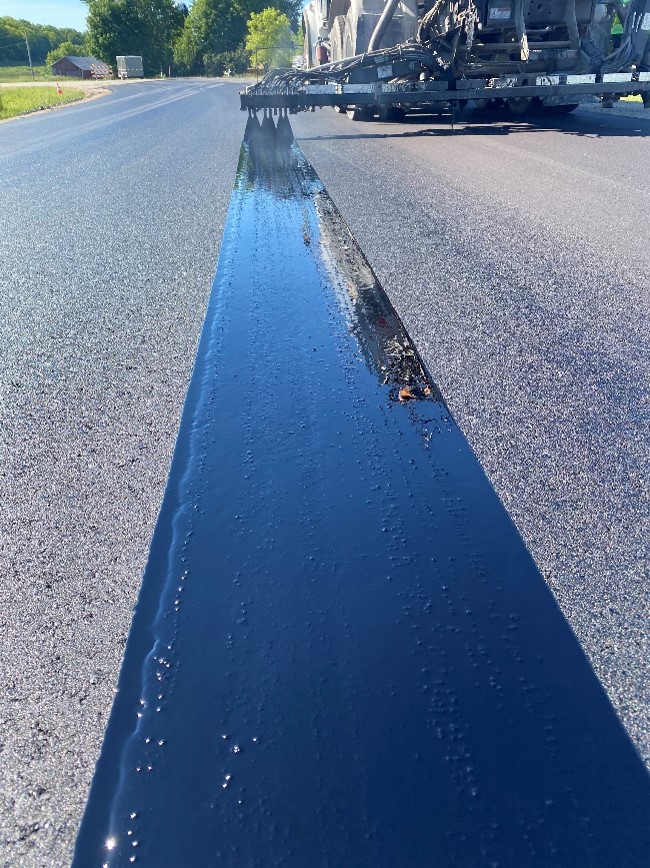 Ultimately, taking these preventative measures not only helps to preserve roads but also promotes safe and efficient transportation across the nation. By incorporating these strategies into this road project, WisDOT has helped to ensure their highway is reliably maintained and able to withstand the elements. With these measures in place, they can be sure that the pavement will remain safe and functioning for years to come.
Research Benefits & Implementation Recommendations 
This research recommends that to improve joint performance and extend the service life of a roadway, several key aspects need to be considered during the design, construction, and maintenance phases.
WisDOT should continue current standard practice regarding joint geometry and testing of joint density
Recommends implementing Void Reducing Asphalt Membrane (VRAM) during construction on a trial basis
Recommends using penetrating asphalt emulsions as a preventative and remedial treatment for longitudinal joints
First, the research team recommends that WisDOT continue its current standard practice of measuring joint geometry and testing joint density, but also investigate other promising alternatives that could reduce the risk of premature failures and minimize the risk of accepting lower densities at the joints relative to mainline of pavements. Further study to develop a more complete understanding of how different types of pavement materials interact with one another at the joints and how to optimize the specifications for each type of material.
Second, they recommend implementing and evaluating VRAM during the construction process on a trial basis. A more proactive approach should be taken when it comes to pavement maintenance, specifically paying close attention to distresses at the unavoidable joint. To determine the effectiveness of this method, a control section will be implemented alongside the trial section. The control section will not have VRAM installed and the pavement distress data will be collected for both sections throughout the year to analyze any significant differences in distress levels between the two sections.
Third, for post-construction processes, the team recommends using penetrating asphalt emulsions as both a preventative and remedial treatment for existing pavements.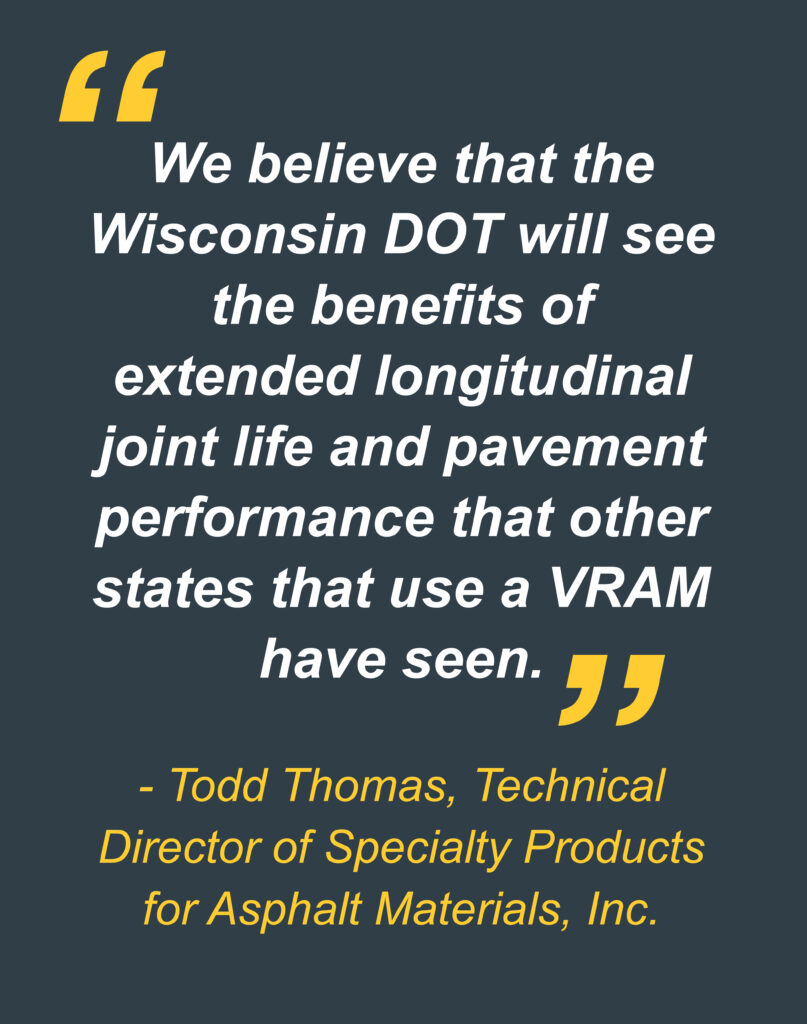 The Path Forward 
From this review completed by the research team, a framework was developed to identify and compare the effectiveness of various joint materials, methods, and experiences that have shown reliable results. This study serves as a key step in understanding how to better extend the life of our roads. By using high-quality materials, proper construction practices, and regular monitoring and inspection, we can ensure that our roads will last for generations to come. The Wisconsin DOT is committed to continuing their research in this area and they urge other states to do the same. Together, we can make a difference in the way our roads are built and maintained.
How Does VRAM Work? 
The good news is that we have a material that can be used to reduce the risk of asphalt pavement failure. VRAM is a void-reducing asphalt membrane. It is a materials approach to solving the longitudinal joint problem. It is applied during the road construction process just below the final layer of asphalt pavement. Once covered, it migrates upwards filling the voids that can be penetrated by water and air, preventing damage before it can start. This in turn makes roads more efficient, durable, and safer for the public.
Depending on the situation VRAM can be sprayed at different widths. Typically, an 18" wide strip is applied for centerline applications.​
J-Band®, a VRAM product of Asphalt Materials, Inc., has been used since 2002 and was created in the labs of The Heritage Research Group.​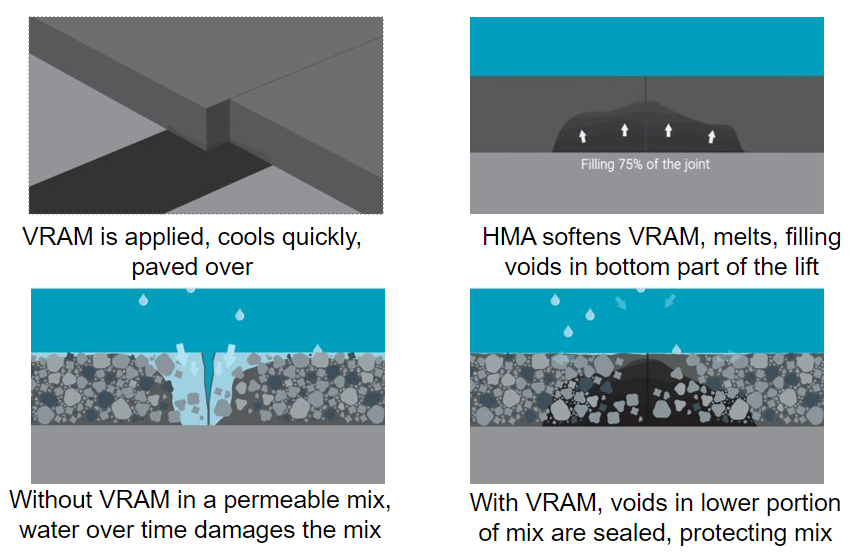 VRAM Can Help Save Time, Money, and Lives 
As we know, distress associated with longitudinal joints is not confined to a single mix type or geographical area. But the study shows that with the implementation of VRAM, roads can last up to 5 years longer, as shown in its cost analysis. The Illinois Department of Transportation (IDOT) also expects VRAM to provide a life extension of 3-5 years. The benefit of this practice is 3-5 times the cost of the material, per IDOT (IDOT VRAM Life Cycle Cost Analysis of a 2-lane roadway, on a 15-year basis, and includes shoulder joint maintenance). The immense value of VRAM is not limited to its life-cycle cost associated with repairing these distressed surfaces, but also in its ability to relieve joint distress.
The IDOT test pavements were evaluated after twelve years and found to have longitudinal joints that exhibited significantly better performance than the control joint sections and were in similar condition than the rest of the pavement.​
​
Laboratory testing of cores showed decreased permeability and increased crack resistance of mix near joints with LJS as compared to a similar mix without LJS.​ (Note: VRAM, or Void Reducing Asphalt Membrane, is referred to in Illinois as LJS, or Longitudinal Joint Sealant. ​)
​
The life extension of the joint area is approximately three to five years, and the benefit is calculated to be three to five times the initial cost.
---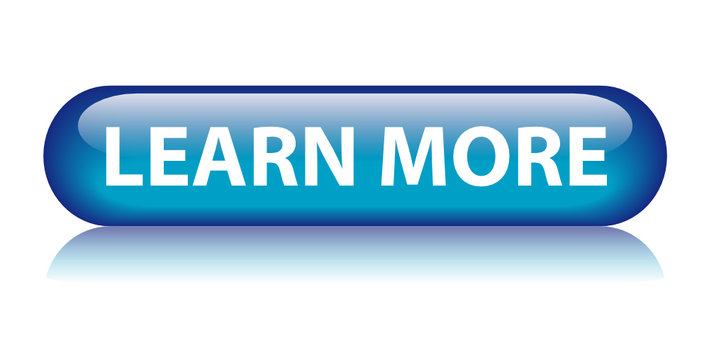 If you would like to learn more about this study, or to read the full report, please visit: https://wisconsindot.gov/documents2/research/0092-21-05-research-brief.pdf
If you would like to see other studies like this, visit: https://thejointsolution.com/resource/studies/
---
J-Band® is a VRAM product of Asphalt Materials, Inc. and was created in the labs of Heritage Research Group. To learn more about J-Band, or to connect with our team, you can email us at: Marketing@Asphalt-Materials.com.