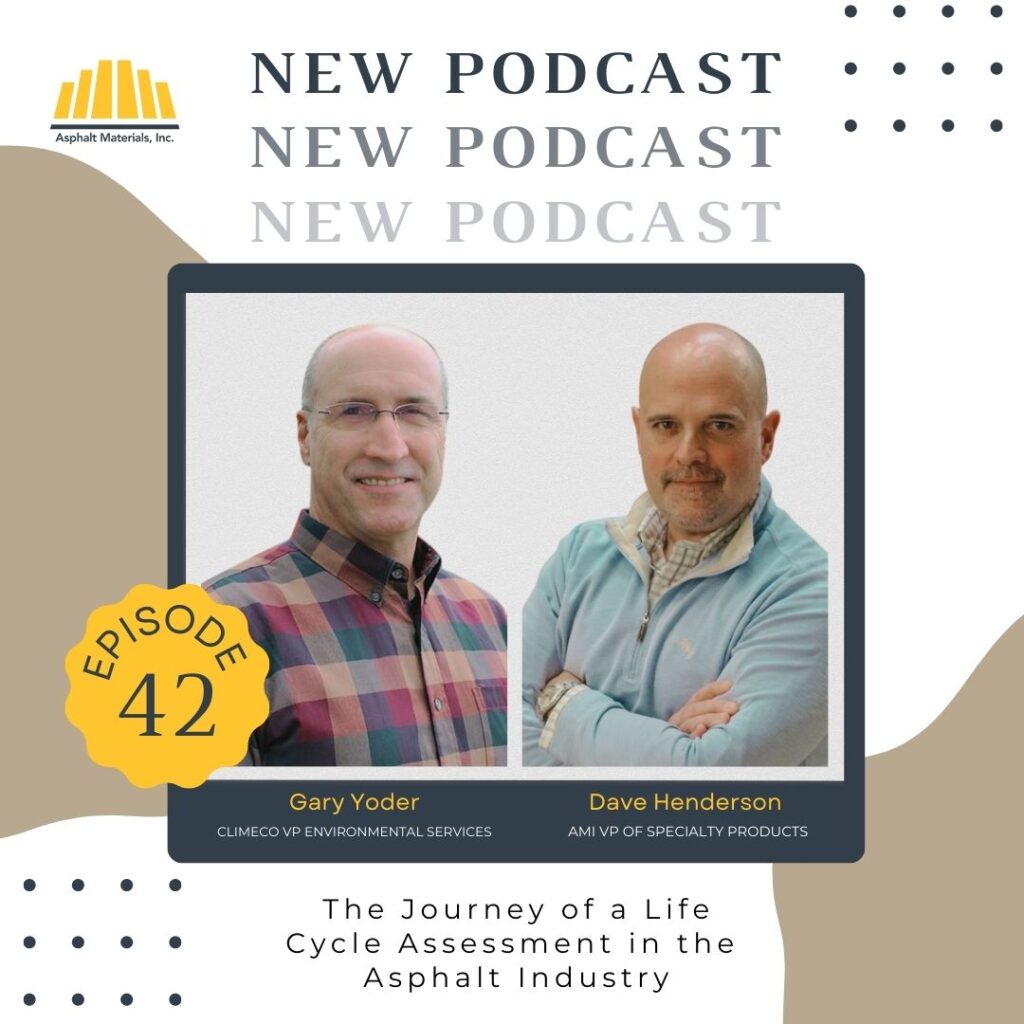 Asphalt Materials' VP of Specialty Products, Dave Henderson is a featured guest on the popular ClimeCo Podcast, ESG Decoded. Read the highlights of this podcast and click the link below to listen to a discussion about the journey and lessons learned from performing a Life Cycle Assessment in the Asphalt Industry!  
During their recent episode featuring AMI's very own Dave Henderson, ESG Decoded invites listeners to 'get in the weeds' on the topic of Life Cycle Assessment (LCA) to understand what goes into this process and why companies undertake them, all centered around a case study. In short, an LCA is designed to answer the question: How sustainable is a product or process? This differs from a Life Cycle Cost Analysis (LCCA), a project management tool that analyzes the economics of the most cost-effective options based on the desired outcomes.  
ESG Decoded is the podcast, powered by Global Affairs Associates, a ClimeCo company, created to share relevant updates related to business innovation and sustainability in a manner that is clear and actionable. They host industry leaders and subject matter experts that explore the complexities about the risks and opportunities connected to (E)nvironmental, (S)ocial, and (G)overnance.
ESG Decoded doesn't deliver one-size-fits-all perspectives; their goal is to go beyond the headlines to offer in-depth, balanced analyses of ESG trends. This podcast unpacks seemingly difficult topics into easily digestible modules that help to empower business leaders in their efforts to drive long-term value.  
The topic lineup looks at ESG from multiple angles and includes:
• ESG Investing Trends
• Decarbonization – Risks & Opportunities
• Circular Economy
• Evolution of Corporate Social Responsibility and Stakeholder Capitalism
• Climate Action from the Business Point of View (Capital Markets, Commercial)
---
Follow the link below to listen to Dave speak about the LCA journey and the lessons learned through the lens of the asphalt industry. https://podcastaddict.com/episode/140287186